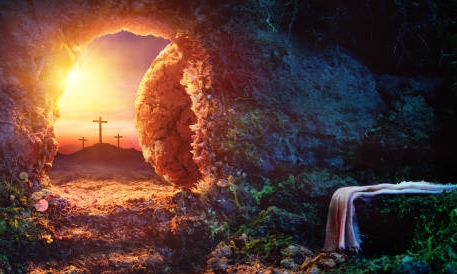 We often think about how the disciples must have felt in those few desperate days between the crucifixion and the resurrection. But have you ever thought about how the religious leaders felt—the ones who arranged the crucifixion because they rejected the Son of God?
Matthew tells us in Matthew 27:62-66 that they went to Pilate to request that the tomb be sealed and a military guard posted. Their excuse was that they feared the disciples would take away his body and claim that he rose like he said he would.
So Pilate granted their request. He told them to secure it as best they could.
Can you see them smearing mortar around that stone at the opening to seal it? Signifying on it, "By order of Pilate, this stone is not to be moved"? And then posting four soldiers to keep watch.
They walk away, satisfied that they have him sealed in. For good. And if the disciples try anything, the soldiers would take care of them (as in arrest or execute).
The clock ticks away the minutes and hours and days. Then Sunday comes. The first day of a new week. The early morning of a new age—the age of grace. Fifty days later the Holy Spirit would be sent and the church officially born.
I am sure that the birds sang louder and sweeter that morning. There was also an earthquake (Matthew 28:2) as an angel miraculously rolled that stone away to reveal an empty tomb.
Hidden in Matthew 27:52–53 is the information that Old Testament saints also arose in new bodies and went into Jerusalem and appeared unto many people. But Jesus was the one who had been sealed in lest his words come true.
And what does the angel say to the women who come to the tomb and find it empty? "He is not here: for he is risen, as he said" (Matthew 28:6 KJV). What a wonderful proclamation!
The Pharisees couldn't keep Jesus in the tomb. The soldiers couldn't keep him in the tomb. The stone and mortar couldn't keep him in the tomb. And the devil couldn't keep him in the tomb.
He is risen as he said. Boom.
And because he lives, his proclamation to Martha is true: "I am the resurrection and the life. Anyone who believes in me will live, even after dying. Everyone who lives in me and believes in me will never ever die" (John 11:25-26 NLT).
And one of these days, a divine trumpet will sound, and believers will come forth from graves in new bodies. Believers who are yet alive will be changed, and together we will be caught up to meet the Lord in the air. And "so shall we ever be with the Lord" (KJV). See 1 Thessalonians 4:16–17.
This—because he is risen as he said. Hallelujah!