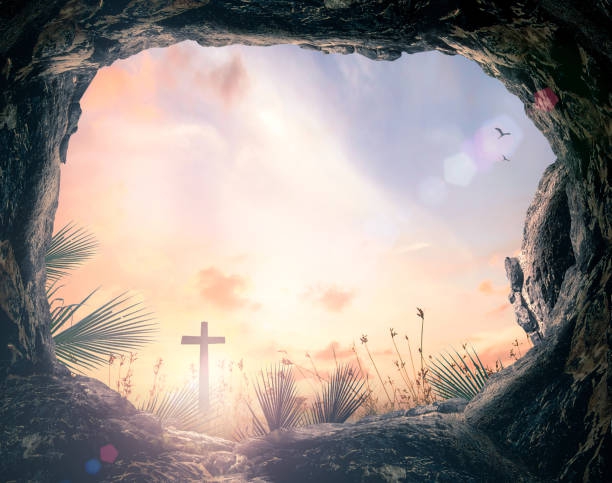 Many miracles surround and fill the life of our Lord Jesus Christ. Important miracles regarding him—not just miracles that he did. Things like his conception, birth, boyhood knowledge of the Word, and his ability to predict where large schools of fish could be caught.
However, more important than his miraculous birth, and all those things he did, is his resurrection from the dead, even as was prophesied.
For a fact, he really did literally, physically die.
There was a huge stone blocking the entrance. It had been rolled into place as was customary. It probably weighed two tons or more. Once it dropped into place in the pre-cut grove, it would be difficult to move it aside. It would have to be rolled up the incline down which it rolled into place. No easy task.
Upon that stone was the seal of Rome. A soft substance would have been used, such as clay or pitch. Such clay would have been smeared to cement the stone to the opening of the tomb. The Roman seal of closure, so to speak, would have been impressed in the clay. A rope would have encircled the stone to hold the clay in place, with that seal intact. To break that seal was a crime against Rome.
Guarding the tomb was a Roman guard, which consisted of four to sixteen soldiers. Four stood watch and the others slept around them. Thus, a thief would have to penetrate the perimeter to get to those watching. It would be impossible for unarmed fishermen to have outmaneuvered trained and armed soldiers.
Could Jesus have gotten out without the stone being moved? Yes. Later, he miraculously appeared to the disciples in a room without entering through the door. See John 20:19, 26.
The stone was miraculously rolled away so the disciples, as well as the enemies of God, could peer in and see that Jesus' body was gone—clearly showing that he had risen as he had said he would.
For the stone to be rolled away, other miracles had to happen. The seal had to be broken. And the soldiers had to be disabled. Blaming it on the earthquake that happened when he arose (Matthew 28:2) still doesn't account for the soldiers sleeping. They were trained to stay alert in all sorts of circumstances.
Matthew explains it well:
Suddenly there was a great earthquake! For an angel of the Lord came down from heaven, rolled aside the stone, and sat on it. His face shone like lightning, and his clothing was as white as snow. The guards shook with fear when they saw him, and they fell into a dead faint. (Matthew 28:2–4 NLT)
The women didn't roll the stone away. The disciples didn't roll the stone away. An angel of the Lord rolled the stone away. And he did it so we could look in and see Jesus gone—risen as he said.
Who raised Jesus? God the Father did. Over and over we are told that in the Word. At least twelve times we can read that God raised Jesus from the dead. And that same power works in us who believe (Ephesians 1:19–20). What a prospect that is!
Jesus, alive, breathing, and glorified, stepped from the tomb, as a guarantee of our eternal life. And because he lives, we—and I in particular right now*—can survive the "loss" of loved ones who really are not lost but home with Jesus.
*This Resurrection weekend is my first in thirty-four years without my husband. But I know where he is and that our resurrection/translation will be soon (1 Thessalonians 4:14–18).