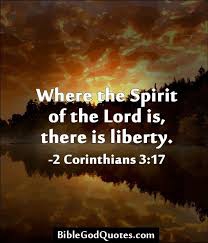 Christians have a liberty that non-believers do not have. We have freedom from sin, from condemnation, from fear of death, from bondage to law-keeping for righteousness, from the law of sin and death, and from guilt. (Check out Romans 6:18, 22; 8:2, 15; and Hebrews 2:15.)
This is true freedom. It comes from doing life God's way—which is believing or having faith.
Jesus said, "If ye continue in my word, then are ye my disciples indeed; And ye shall know the truth, and the truth shall make you free. . . If the Son therefore shall make you free, ye shall be free indeed" (John 8:31, 32, and 36 KJV).
Because we have this spiritual liberty, we should stand firmly in it and not treat it lightly. Paul writes, "Stand fast therefore in the liberty wherewith Christ hath made us free, and be not entangled again with the yoke of bondage" (Gal. 5:1 KJV).
As Christians in the USA, we have been blessed with other liberties, too. If you live here, you know what these are—and they are available to all citizens (and to many non-citizens) regardless of race, gender, creed, or ethnicity.
Those who don't enjoy these liberties are limited in some way—yes. The criminal in jail or under house arrest cannot freely move about the country. Those of us on limited income can't qualify to buy a mansion in D.C. Many of us can't even finance a brand new automobile. So, yes, there are limitations. But the limitations pertain to our individual situations, not as government restrictions.
Some of us understand that. We know what's at stake this election cycle. With all the hype from the pro-socialists, we know that our way of life, our basic civil liberties, are on the line. Does that mean we look to politicians to "save the nation"? No. It simply means that because we appreciate the nation God blessed us to be born in, we are not keen to squander our God-given liberties.
Why do we want to keep these liberties? We can freely share the gospel with others under our constitution. Until the covid-19 mask order and church blockings, we were able to assemble to worship as we choose—where, when, and how.
Under socialism, those liberties will cease. Our liberty in Christ will remain—and we know that. But we will be restricted from helping others and from freely sharing the good news of spiritual freedom and eternal life.
What it comes down to is a basic difference in ideology, and the one called "socialism" is, at its core, antichrist. Socialism demands that its subjects (no longer considered citizens) look to the state as the omnipotent power. This power will tell them where to live, where to work, what occupation to have, how far in school they can go, and what property they can and cannot have.
It no longer becomes a matter of personal limitation if one can't buy a mansion—or a mobile home. It becomes a "state" (government) limitation on all real estate ownership: only the elite and their chosen ones can own real property. Everyone else gets to rent from the collective rental agencies (i.e., from the government).
Having a car becomes a state allowed privilege which will not be granted to anyone who doesn't support the ruling party. Choosing one's career path will not be allowed.
Free college? Sounds good to today's youth. How will it sound when they are removed from college and set up in a "mundane" job (by their classification) and told that they must work there because that's where the state needs them to be, and they have no choice in the matter.
I've heard their excuses: "Our socialism won't be that way." If it is socialism, it is that way, like it or not.
This July 4th—Independence Day—let's reflect on the blessings we have in this nation. And let us unite and work together to solve the individual limitations that exist and to heal the division, injustice, and inequities that still remain.
Our national motto is "E Pluribus Unum"—"Out of many, one." That isn't possible when we allow ourselves to be divided into hate groups. Let us follow as a nation the spiritual admonition regarding liberty, as written by Paul in Galatians 5:13: "For brethren, ye have been called unto liberty; only use not liberty for an occasion to the flesh, but by love serve one another" (KJV).
Let us "by love serve one another."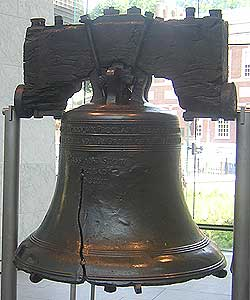 And "let freedom ring."
Click here to sign up to receive my blog posts and other emails about my books.