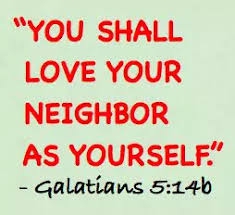 According to information in a recent blog by Dr. Gene Edward Veith, about 25% of the population holds a negative view of evangelical Christians. The reason is that most of them think evangelical Christians are "too pushy" or have outdated beliefs. They label these Christians as "homophobic," "hypocritical," or "anti"-whatever-they-are-for.
I suppose they think we are hypocritical because we take a stand regarding morality, most prominently our pro-life position, which is also pro-woman:
We care about the 50% of pre-born babies who are female.
We care about 100% of the aborting mothers who will most likely face deep regret and abortion remorse, often to the point of depression or suicide.
We care about the women who become hardened by abortion and whose natural affection is seared to the point of being unable to truly love.
They call us homophobic because they don't discern the difference between the act and the person. Evangelicals whom I know love gay people and have only spiritual good in mind for them. We evangelicals just don't celebrate the sin which has enslaved the gay person. Evangelicals are like the person who sees flames on a rooftop and calls the fire department. We may even try to save the people in the house.
Truly, no one wants to hear that their house is on fire. But better to be told than to be left to perish in the smoke and flames. Evangelicals don't just walk on by and call it "tolerance."
God commanded Ezekiel to be a watchman and told him that if he warned the people, it would not be his fault if they remained in their sin and were judged (Ezek. 3:17, 19). However, if he didn't warn the people and they remained in sin, it would be Ezekiel's fault for not warning them (Ezek. 3:18).
Fortunately, we are not given that heavy a task in this church age. However, we are instructed in the New Testament to "earnestly contend for the faith" (Jude v. 3), which means to make a stand for the gospel, to share and defend it. Jesus tells us, "You shall love your neighbor as yourself" (Matt. 22:39 MEV). This means loving people enough to care about their temporal life and their eternal welfare.
We're accused of having outdated beliefs—yet the practice of homosexuality dates back to pre-flood times and to Abraham's day, so it is rather outdated as well.
The point is that evangelical Christians, motivated by love of humanity and obedience to God, desire to share with others the blessings we have received. We want to share these with as many people as we can—not to enrich ourselves or force our will on others—but to bring the benefits of salvation upon all who will believe.
Click here to sign up to receive my blog posts and other emails about my books.