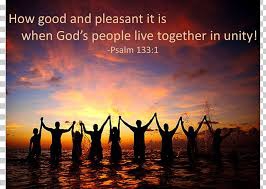 There is one thing that can end racism permanently. It isn't burning, destroying property, and looting. It isn't throwing water bottles and bricks at cops. It isn't name calling, race baiting, or passing legislation (though the latter can help correct outward human behavior).
A common faith in Jesus Christ will remove racism from those who follow him.
Paul says in Galatians 3:28, "There is neither Jew nor Greek, [or black or white or yellow or brown], there is neither slave nor free, [or successful professional or minimum wage worker], and there is neither male nor female, for you are all one in Christ Jesus" (MEV with my additions in brackets).
All one in Christ. That's the unity that is needed today.
Of course, we can't mandate that everyone become a Christian. Nor does it work that way. But the message of the gospel going forth can change hearts and minds and bring us into that unity of faith by being born again. Being a new creation in Christ (see 2 Cor. 5:17) will cause us to see one another through the lens of love.
Romans 10:12 also makes this point: "For there is no difference between the Jew and the Greek [between the black and the white, the yellow and the brown, or any other color]: for the same Lord over all is rich unto all that call upon him" (KJV with my additions in brackets).
Jesus loves all. He does not see racial divisions. He does not classify people by skin color. He is "not willing that any should perish, but that all should come to repentance" (2 Peter 3:9 KJV). He desires for "all men to be saved and to come to the knowledge of the truth" (1 Tim. 2:4 KJV).
But he gives people a free choice. So how do we eradicate racism apart from Jesus Christ, the Savior? How do we guarantee equal treatment under the law for all races, apart from God who is love and who commands us to love one another?
I don't think we can get there apart from Jesus. We can provide some justice. Pass laws to end the actions that result in division and injustice. But we cannot change hearts. We cannot force people to value the lives of others.
For that very reason, any political party that wants to do away with God will not be able to do away with racism. If they could have, they should have by now.
It's past time for political parties to act. We need a mighty move of the Spirit of God upon our land. We need national repentance of and sorrow for sins of injustice and hatred. We need a born-again, united-in-Christ experience of peace, love, and unity. And we need it now.
Each of us can start with prayer. With treating one another with kindness and respect. With open, civil dialogue. With sharing the love of God.