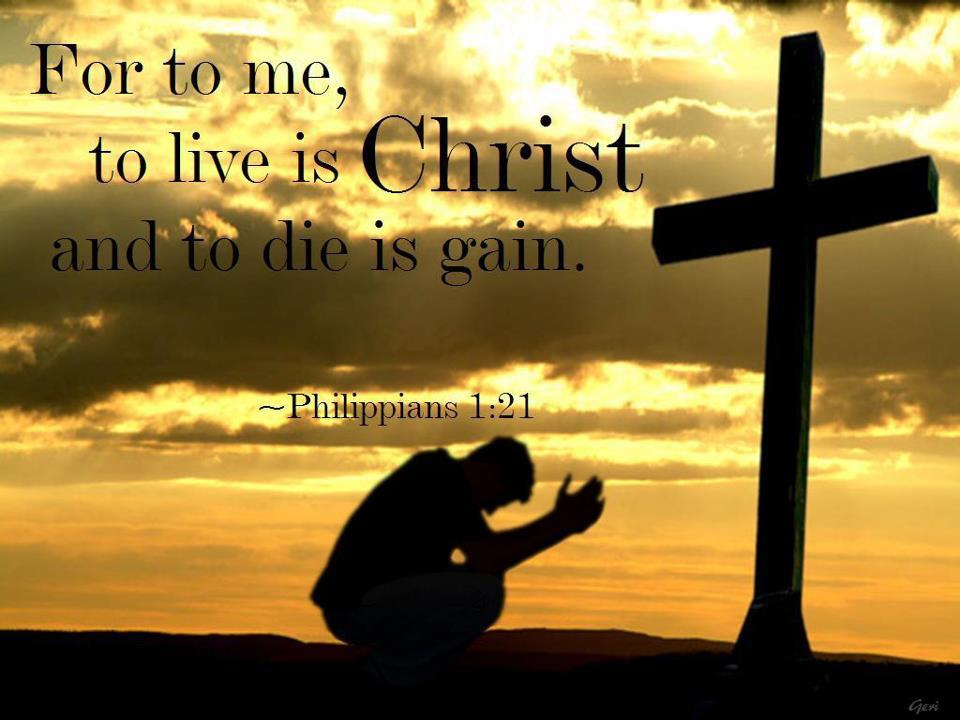 The apostle Paul makes a very bold statement in Philippians 1:21, 23. He says, "For to me, to continue living is Christ, and to die is gain . . . I am in a difficult position between the two, having a desire to depart and to be with Christ, which is far better" (MEV). Can we have this attitude, too? Do we?
Was Paul being suicidal? No way. He admits that it was more needful for the believers for him to stay on earth and continue his ministry (vv. 24-26). He is simply making the point that as we yield to God and trust him for our lives, living is to continue in Christ's will on earth and dying is to enter the presence of our Lord. We are winners either way!
In Philippians 2:2, Paul encourages us to be likeminded—not only with one another but with him, in this very assurance.
How does this tie to Covid-19? When it first hit these shores, a high death toll was predicted. By God's grace, it hasn't been that serious. But it is serious enough to those families who have lost loved ones to that diagnosis.
What if each of us reading this were to be at death's door with Covid-19? Could we declare that departing and being with Christ would be better than getting well and continuing to live in this life?
And even beyond that thought, what actions do we take in light of this truth? Do we run out and try to get sick so we can move on into eternity? That's not what Paul's words suggest.
As for us, we should care for those whom God puts in our life to care for (children, spouse, parents—whomever), confident in Christ and without fear. We follow common sense guidelines regarding our safety and that of those whom God has placed in our care.
We place our trust in God, not in government. We trust in God, not in our handwashing and sterilization of doorknobs and groceries, and our various masks, etc., (though we may do those things as a precaution). Our confidence is in God, not an untested vaccination.
We look to God, not to a world organization that is empowered by the enemy of God. That enemy is the prince of the power of the air, "the god of this world," who has "blinded the minds" of unbelievers (Eph. 2:2; 2 Cor. 4:4).
Isaiah addresses this: "Thou wilt keep him in perfect peace, whose mind is stayed on thee: because he trusteth in thee. Trust ye in the LORD for ever: for in the LORD JEHOVAH is everlasting strength" (Isa. 26:3, 4 KJV).
We can have peace, not worrying about whether we live or die, shelter in place or return to work, stay healthy or get sick, live or die. Because our strength is in the Lord, forever.
Jeremiah says, "Blessed is the man who trusts in the LORD, and whose hope is the LORD" (Jer. 17:7 MEV). We need to make the Lord our trust and hope, make him the assurance of our life. Only then will we be able to say with Paul, "For me, to continue living is Christ, and to die is gain." Only then will we be able to face the future with peace, in spite of Covid-19, in spite of the restrictions, in spite of the predictions of doom that may bombard us.
Life is worth living if we have Christ, and death holds no power if we have Christ. And having Christ means to acknowledge our sin and need of a savior, accept that Jesus died and rose again to forgive us and impart new life to us, to be "born again" (John 3:3). It is to come to the light, which Jesus is (John 3:18-21).
Romans 14:8 says, "For if we live, we live for the Lord. And if we die, we die for the Lord. So, whether we live or die, we are the Lord's" (MEV).
Ravi Zacharias, well-known apologist and writer, posted on his Facebook story on May 16, 2020 this message: "The story of the gospel is the story of eternal life. My life is unique and will endure eternally in God's presence. I will never be 'no more.' I will never be lost, because I will be with the One who saves me."
And isn't that what the apostle Paul was saying? Ravi is battling end-stage cancer. He is one whom I ask the Lord to spare—to heal and leave here to continue his ministry. But it's the Lord's decision to make. And either way, Ravi will be "in Christ."
This is an assurance that all believers have. It's based, not on our merit, but on Christ's work and faithfulness.
(Feel free to comment or email if you have questions about accepting Christ, or have concerns about the future because of Covid-19 or other illnesses.)