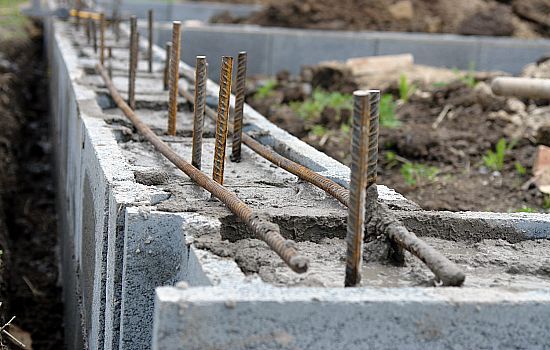 When building, even a deck on a house, one must dig down deep, pour concrete footings, and establish a firm foundation. This is necessary in order for the structure to last the test of time and weather the storms that inevitably will come.
Jesus spoke a parable about building on a firm foundation, as recorded in Matthew 7:24-27. He said that those who hear what he says, believe it, and obey his words are like people who build on a rock, a firm foundation. Rain, floods, and winds come, but the house stands because it is "founded upon a rock."
People who ignore what he says and who refuse to believe and obey are like people who build on the sand, without a sure foundation. Rain, floods, and winds come, and the house falls. In fact, he says, "it will collapse with a mighty crash" (v. 27 NLT).
In 1834, a preacher named Edward Mote wrote a song which magnifies Christ as the solid Rock. Its chorus is based on the Matthew 7 Scripture, and its stanzas refer to other Scriptures. The first stanza shows the assurance that our salvation is based on Christ's completed work alone:
"My hope is built on nothing less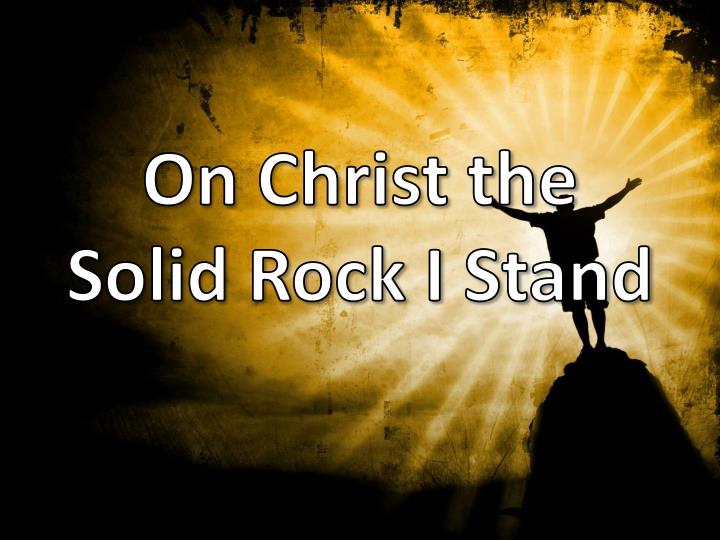 Than Jesus' blood and righteousness;
I dare not trust the sweetest frame,
But wholly lean on Jesus' name.
On Christ the solid Rock I stand;
All other ground is sinking sand."
The song's next two stanzas deal with troubles of life and assert that Christ is our anchor who holds us safe in every storm and that he never forsakes us. "When every earthly prop gives way, / He then is all my Hope and Stay," writes Mote. The last stanza celebrates our reward in heaven with Jesus, because of His work, because He is our solid Rock.
The important lesson to draw from this is that no matter what happens to us—even during this time of Covid-19—our Lord and Savior Jesus Christ has got us. He is the solid Rock on which we stand. He is our anchor. He is our hope. His righteousness provides our security—now and for eternity.
All we have to do is listen to him, believe him, and obey his Word. In short, build on the solid Rock, not on the shifting sands of our darkening culture. He is called our rock two times in second Samuel and four times in the Psalms. Psalm 18:2 celebrates that "The LORD is my rock, and my fortress, and my deliverer; my God, my strength, in whom I will trust; my buckler, and the horn of my salvation, and my high tower" (KJV).
These metaphors fit this time. We face Covid-19, media hype and propaganda, state and local government tyranny in places, proposed dubious vaccinations, planned population thinning, battles over what medicine is best to use, loss of business and even bankruptcy by small businesses, closed churches, enforced mask wearing, social distancing, and massive quarantines.
Though some of those actions may help some of the population, we are being overwhelmed with messages of "fear," enticing us to hide away as though Covid-19 had the power of God—the power of life and death. To base our hope on a vaccine, a ventilator, a mask, or massive amounts of hand sanitizer is to build on "sinking sand."
As individuals, we can only trust in Jesus' name. In his grace and goodness. As a nation, we can only trust in his willingness to forgive as we repent of our national sins. Those national sins are comprised of millions—no, billions—of individual sins, many of which have yet to be repented of. Will the self-righteous and truth-haters of our nation repent?
The future of our nation—of our liberty—stands in the balance. Upon what, as a nation, will we build our hope? Upon what name will we call? Upon what surface will we stand and build again a nation of unity and morality. The solid Rock? Or sinking sand?
Upon what will we build our individual lives? Hopefully on Christ, who came to give eternal life and abundant life (John 10:10). If we build on him and his Word, our life will be secure in his will, safe in his care, and we will stand through all storms.
Be safe, y'all.
Feel free to comment or share your stories with me.