"For God hath not given us the spirit of fear; but of power, and of love, and of a sound mind" (2 Tim. 1:7 KJV).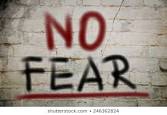 We do not have to live in fear of Covid-19. We can approach Covid-19 with power, love, and a sound mind. Power in that our God is greater than a virus. Love, in how we treat each other, even those of differing viewpoints. And a sound mind in remaining calm in the face of the economic down-turn, knowing that we—and the economy—will recover as God permits.
When we know we're in God's hands, we need not fear. We need not fall prey to the over-stated dangers and risks of the coronavirus, vaccinations, or various conspiracy theories.
Does having no fear mean we must go without masks, gloves, social distancing, hand washing, etc.? No. If we are in a vulnerable group—and you all know who that is, those with compromised immune systems, asthma and other lung issues, diabetes or other conditions, over sixty years old—a sound mind dictates that we take steps to protect ourselves and those we may be caregivers for, who also are vulnerable.
Can we allow non-vulnerable people to go without a mask and gloves? Absolutely. And we should do so with agape love—that's God's love that gives without expecting anything in return. If we are centered in that kind of love, we will not fear, just as the apostle John writes, "There is no fear in love; but perfect love casteth out fear: because fear hath torment. He that feareth is not made perfect in love" (1 John 4:18 KJV).
It benefits us to have no fear, because fear has torment. The Greek word used there literally means "penal infliction; chastisement; punishment." In other words, fear puts us in a prison, subject to punishment, isolation, and torture that occurs in prisons, particularly those of the enemy during warfare.
We become prisoners of war when we allow fear to shake us and remove us from a place of faith, filled with the power of God, the love of God, and the sound mind which we have in Christ.
Isaiah says it very poetically in Isaiah 26:3-4: "Thou wilt keep him in perfect peace, whose mind is stayed on thee: because he trusteth in thee. Trust ye in the LORD for ever: for in the LORD JEHOVAH is everlasting strength" (KJV).
As people come out of sheltering and return to work, we need not fear a "second wave." And if caution moves us as individuals to remain at home, then we can do so without fear. Fear does not have to be our motivation. Faith in God, reliance on him, love for one another, and a sound mind of caution can be our motivation.
And the same goes for returning to church to worship our great God and Savior, the Lord Jesus Christ.
If you have concerns or a testimony of healings, please comment. I value your thoughts.