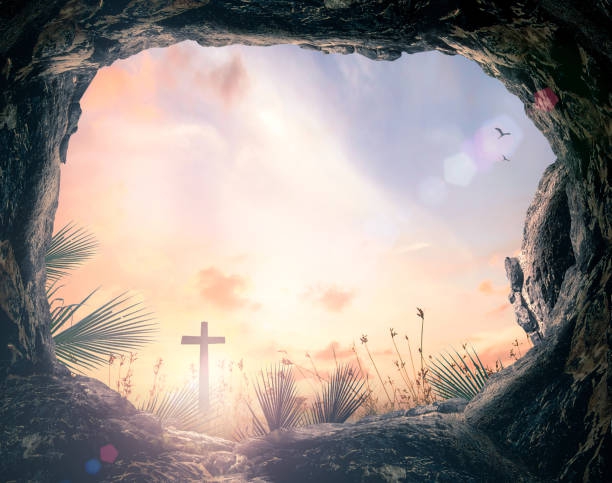 Through the centuries, it has been indisputable that Jesus Christ rose from the dead on the first day of the week (Sunday) following his crucifixion. All that the unbelievers, Jewish and Roman alike, would have needed to prove otherwise is to have produced a dead body. But they could not, for "He is risen as He said," as the angel announced in Matthew 28:6.
He rose, the "first fruits" of the Resurrection (1 Cor. 15:20, 23 MEV), having conquered sin, death, and the devil. Romans 4:25 assures us that Jesus was delivered to death for our sins and was raised to bring justification and new life to us. Additionally, 2 Corinthians 5:21 explains the exchange that took place: "God made Him who knew no sin to be sin for us, that we might become the righteousness of God in Him" (MEV).
The gospel by Matthew records two earthquakes which shook Jerusalem and the surrounding area at that time, one upon Jesus' death (Matt. 27:50-51) and one upon his resurrection (Matt. 28:2).
But something even more astounding than earthquakes also occurred. Many Old Testament believers who were buried around Jerusalem also rose in glorified bodies and followed Jesus as firstfruits of the resurrection (the "sheaf bundle" of Lev. 23:10 MEV).
"The graves also were opened, and many bodies of the saints who had died were raised, and coming out of the graves after His resurrection, they went into the Holy City [Jerusalem] and appeared to many" (Matt. 27:52-53 MEV).
Note, this was after Jesus' resurrection. They rose and went into Jerusalem and were seen by many. Who were these? Perhaps Jeremiah, Isaiah, David, John the Baptist (dead around a year) and his parents, Zacharias and Elizabeth, and perhaps even Simeon and Anna, of whom we read in Luke 2.
However, as a wise teacher used to say, such speculation is "sanctified imagination." The fact is, we don't know who they were. We only know that they rose in bodies that were whole and recognizable—not decayed mummies or zombies; that they had the ability to move about and go into the city; and that they were transported to heaven when Jesus ascended (Acts 1:9). They did not have to die again, as did Lazarus and the others whom Jesus raised before his crucifixion and resurrection.
Described as a "cloud," they went upward with Jesus when he ascended. In Hebrews 12:1, we see those who've gone before described as "a cloud of witnesses." In Revelation 1:7, we see that Jesus will come again "with clouds," an event described in Revelation 19:11-14. That speaks of the time when he will come to set up the Millennial Kingdom (Rev. 19:15-16; 20:4-6).
All these things are secured by the resurrection of Christ that morning some 2,000 years ago, and his resurrection still stands as the guarantee that we, too, shall be raised if we fall asleep in Him.
"For if we believe that Jesus died and rose again, so God will bring with Him those who sleep in Jesus. For this we say to you by the word of the Lord, that we who are alive and remain until the coming of the Lord will not precede those who are asleep. For the Lord Himself will descend from heaven with a shout, with the voice of the archangel, and with the trumpet call of God. And the dead in Christ will rise first. Then we who are alive and remain shall be caught up together with them in the clouds to meet the Lord in the air. And so we shall be forever with the Lord. Therefore comfort one another with these words" (1 Thess. 4:14-18 MEV).
This is a needed comfort at this time and always. For those in Christ, the best is yet to come.