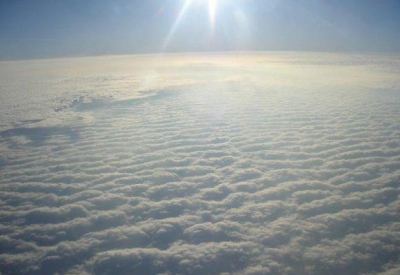 After weeks of sheltering in place, many people are becoming super stressed, depressed, or just plain antsy. Those who must go out and pick up necessary food and medical supplies may be tired of donning their latex gloves and surgical masks, and taking other protective cautions.
Many have turned in to germaphobes, stricken with virusphobia. And listening to mainstream news can send us into panic mode, where we expect hundreds of thousands of deaths and hope we're not part of that statistic.
Some find comfort in the Word of God, which is the best place to find comfort.
In the midst of rejection, trouble, and depression described in Lamentations 3:1-20, the prophet Jeremiah remembers an important fact. In verse 21 he announces that he recalls it to mind and has hope. What is it that he reminded himself of?
"It is of the LORD's mercies that we are not consumed, because his compassions fail not. They are new every morning: great is thy faithfulness" (vv. 22-23).
Because of God's mercies (plural), we are not "consumed,"—beaten down without measure, weakened to the point of defeat and victimhood. The meaning of the Hebrew word as used in this context is best expressed like this: "make an end of; be wasted or used up completely; be all gone; come to the end of; be fully spent," and so on.
God's mercies protect us because his compassions (plural) fail not. They do not end, cease, or perish. "They are new every morning." God's mercies and compassions abound in a perpetual supply.
"Mercies" are kindnesses springing from love and pity (in a good sense—not like a "pity party.")
"Compassions" are the spiritual touches of God's love, motivated by his mercy. He draws us close, pats our back, wipes tears from our eyes, and cradles our chin to cheer us. His strong arms embrace us; he holds our hand and walks with us. See Song of Solomon for spiritual tenderness described poetically, especially 1:2 and 2:6.
Notice that the "mercies" and "compassions" are plural nouns. They are in abundance—it's not just mercy and compassion. The thought is that God's multiple mercies and compounded compassions for us never come to an end, never fail to keep us secure, safe, and stable. Every morning we start out fresh with new mercies and compassions from our faithful Lord. Peter speaks of this as "manifold grace of God" (1 Peter 4:10).
An element of his faithfulness is "fidelity." God is truly the one who is "Semper Fi." In Revelation 19:11, we see Jesus as the one who is "called Faithful and True." Thus, another element of his faithfulness is "truth," because without truth, faithfulness is merely stubbornness. God's great faithfulness provides "security" for us, a sure foundation of truth. We do not have to fear in this pandemic or in any difficult situation.
Because of God's marvelous promises, we can boldly declare, as did Jeremiah: "The LORD is my portion, saith my soul; therefore will I hope in him. The LORD is good unto them that wait for him, to the soul that seeketh him. It is good that a man should both hope and quietly wait for the salvation of the LORD" (Lam. 3:24-26).
Whether we are kept from this virus, healed from it, or taken home to heaven through it, we can be sure of this:
God's mercies do not allow us to be wasted, ravaged, or defeated by this pestilence;
His compassions do not fail but are always toward us, upon us, and new every morning;
His great faithfulness holds us securely and keeps us in relationship with him.
As long as we hope in him, we do not have to fret over COVID-19, "stay at home" orders, temporary layoffs, bare grocery store shelves, lack of toilet paper (God forbid!), or any other difficulty. This is not to make light of it if you are in that situation. But God will get you through it. He will not fail you. You can hope in him. You are not a victim. You are a victor in Christ.