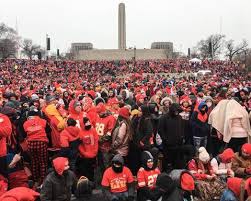 The parade to celebrate Kansas City Chiefs' 2020 Super Bowl victory was Wednesday, Feb. 5, in Kansas City, MO. The televised parade showed streets full of fans celebrating the victory of their hometown team.
According to early reports, there was only one breach of barricade and only five arrests, which included two from that breach. Others were for minor things like falling out of a tree or riding a horse. There was no looting, fires, riots, or property damage. Indeed, they celebrated the big win with decorum, dignity, and controlled delight.
But what if the Chiefs had lost? Then the victory celebration would have been in San Francisco.
In a game, sporting event, political contest, war, or personal battle, where there is a victor, there is also a loser.
However, in our spiritual life, we can all be victors—because we are not one another's opponent. Our opponent is "spiritual wickedness in high places" (Eph. 6:12).
We aren't battling individuals—not even individuals whom the devil uses to defeat us. (See 2 Corinthians 10:3.) We battle the mental and emotional force of evil, the influence of the devil on society, the impact of the devil on individuals opposed to our walk with the Lord Jesus.
The good news is that Jesus Christ has already won the battle for us. Our victory comes in understanding that and acting on his victory for us. Jesus said, "These things I have spoken unto you, that in me ye might have peace. In the world ye shall have tribulation: but be of good cheer; I have overcome the world" (John 16:33).
Jesus overcame the world, the prince of the world (the wicked one, the devil), and the evil spirits that the devil uses against us. Because Jesus did overcome, when we find our identity in him, as a new creation, we also have overcome the world, the devil, and the evil spirits (attitudes and influences of evil in the world).
In 1 John 5:4-5, we read of our triumph by faith over the world. In 1 John 2:13, 14, we see our victory over the wicked one by our new life in Christ. And in 1 John 4:3-4, we read that we have overcome the spirits of antichrist, because the spirit of Christ is in us (and he is greater than the spirits of the evil, wicked one, Satan).
Therefore, the loser in our spiritual battle is Satan and all that he uses to defeat us: lies, deception, error, hate, darkness, evil, moral depravity, perversion, false accusations, and even false lights. For example, the devil puts the new "tolerance" for righteousness and a twisted political correctness for morality.
However, the new tolerance is not "tolerance" but required celebration of and forced participation in that which is contrary to God's righteousness. Today's political correctness is not simply "grace and kindness for all" but preference of the immoral over the moral, substitution of collectivist thinking for common sense, and choosing a reprobate mind instead of logical critical thinking.
Who would have thought, even ten years ago, that the confusion of tolerance and political correctness would have reached the point it has? Children are taught that "scientific fact" (or even theory, i.e., evolution) overrules faith. But when it comes to their own bodies, they are told that the body parts they are born with do not determine their sex/gender. They are encouraged to toss science out the window and believe their "feelings." And feelings are much less reliable than faith.
But in Christ, there is victory over even this confusion, which is part of the world, spawned by the wicked one and carried by the spirits of antichrist. Our victory is clear: "Nay, in all these things we are more than conquerors through him that loved us" (Rom. 8:37). And he that loved us is Jesus Christ. He is the victor. And he is our victory.
And that spiritual victory far transcends the happy victory of the Kansas City Chiefs.
(Photo by Kansas City Star)