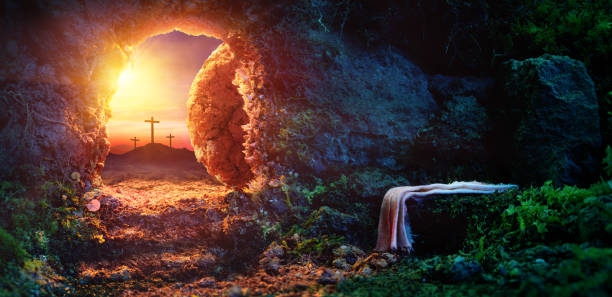 Like many of my fellow Christians, I find that anytime I think about Christmas, I also think about the ultimate reason for it—the death of the Son of God for me, for whosoever believes.
We don't celebrate a perpetual infant in a manger, though we do remember our Lord's humble birth. But he came to die. To die for us.
However, he didn't stay dead. He rose again, came from the tomb, and after forty days, ascended to heaven to the right hand of the Father. From there, he will come again for believers, and later will come with believers to set up his kingdom in Israel. It's all in the Bible. Those who doubt can read it for themselves.
Unfortunately, those who choose not to believe will remain in their spiritual darkness. But even as the star in the east appeared in the sky to light the way for the wise men, so God has placed believers as lights in this darkening world, to light the way for any who would seek King Jesus, the Savior.
Jesus said, "Let your light so shine before men, that they may see your good works, and glorify your Father which is in heaven"—Matt. 5:16. Paul urged the believers to shine. He wrote, "For ye were sometimes darkness, but now are ye light in the Lord: walk as children of light"—Eph. 5:8.
So, in the full glow of the True Light, Jesus, I wish a blessed Christmas to all. May you all celebrate the rest of God's plan and dwell in his light.
Here's a little poem I scratched out this morning. It's not a "literary" poem, and I realize that, although it's fourteen lines, it isn't iambic pentameter, so doesn't qualify as a sonnet. It's just some precious thoughts I had while having my time with the Lord this morning.
Lines upon a Nativity Set
No trumpet announced His humble birth;
No crowd shouted "Glory!" but angels who sang,
And music, I'm sure, through heaven's court rang.
The shepherds, aware of the baby's worth,
Must have sung in their hearts: the privilege given
To look into the stable to see Him there.
Later, folks looked out of the tomb, for He was not there.
Upon Him some looked as He ascended to heaven.
Now, in this age, we look for the Lord,
And we who are alive and remain to this day
May see Him descend to catch us away!
What awesome prospect! What wonderful Word!
What glorious plan this babe's birth sparked:
The gospel of salvation to believing hearts.
While listening to a sermon online, I just heard Greg Laurie say, "Jesus was born that we might be born again." Amen.