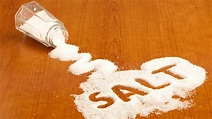 In Jesus' famous sermon on the mount, recorded in Matthew chapters 5 through 7, Jesus spoke many words of wisdom, ranging from the "Beatitudes" (Matt. 5: 3-12) to what is commonly called "The Lord's Prayer" (Matt. 6: 9-13); from a warning about false prophets (Matt. 7: 15-20) to a parable about building a house on a firm foundation (Matt. 7: 24-27).
But in Matt. 5: 13-15, we see two analogies that should encourage us to remain true to His gospel and to share that truth and light with everyone in our sphere of influence. Jesus says:
"You are the salt of the earth: but if the salt have lost his savor, wherewith shall it be salted? It is thenceforth good for nothing, but to be cast out, and to be trodden under foot of men. You are the light of the world. A city that is set on a hill cannot be hid. Neither do men light a candle, and put it under a bushel [basket], but on a candlestick; and it gives light unto all that are in the house."
Salt that no longer has flavor is good for nothing. It won't even preserve foods, kill germs, or enhance the taste of food. When we compromise with the culture and fail to stand for the truth, we have "lost our salt." Our diluted and powerless message is, thus, good for nothing, though it may be politically correct.
A light on a hill can be seen; a light in the valley or ditch cannot. A candle on a candlestick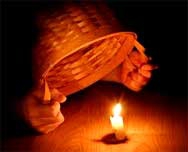 can be seen; a candle hidden under a basket or solid covering cannot. When we hide our faith and refuse to share the gospel of salvation "lest we offend someone," we have "hidden our light." We must not allow the culture to force us to privatize the light which we have.
We are to be salt and light, to "earnestly contend for the faith" (Jude v. 3). In Matthew 5: 16, Jesus says, "Let your light so shine before men, that they may see your good works, and glorify your Father which is in heaven." The light we shine is the light of Jesus reflected in us, as we allow Him to produce in us attitudes, behavior, and deeds which are righteous.
The apostle Paul put it this way, as he urged believers to live without rebuke before the rebellious and sinful world, "among whom you shine as lights in the world, holding forth the word of life" (Philippians 2: 15b-16a).
Notice that "holding forth" suggests the candle on the candlestick, the light on the hill—something visible, prominent, and accessible. Our walk and ways should provide light to others. Proverbs 4: 18-19 says, "But the path of the just is as the shining light, that shines more and more unto the perfect day. The way of the wicked is as darkness; they know not at what they stumble."
In 1 John 1: 5 we see that "God is light, and in him is no darkness at all." He is the light that makes us light, who believe in him. In fact, in John 12: 36, Jesus calls believers "children of light." If we are children of light, we have a responsibility to let our light shine.
If we carry the word of truth in our hearts, as salt, we have a responsibility to refuse to destroy that salt's effectiveness and flavor by compromising the truth.