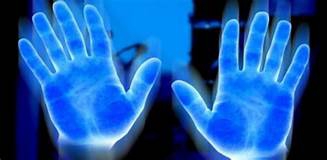 Did you know that you emit a glow that cannot be seen with the eye but can be measured with special equipment? In fact, all living things emit such glows, which vary from species to species, individual to individual, and even from place to place on the individual. In fact, a human's hand can emit more of the weak electromagnetic waves (light), than other areas of the body.
These light waves, which range from the frequencies of ultraviolet light and all visible light colors to infrared light, should not be confused with the "bioluminescence" of creatures like deep sea fish and fireflies, for example. The light particles emitted by all living things are called "biophotons" and are different from chemical bioluminescence.
Inanimate objects do not emit biophotons, nor do dead things. I think of it as the energy emitted by things that have protoplasm. We could call it the light of our physical bodies or the spark of light.
However, spiritually, there is a deeper application of the "light" in each human. There is a True Light—Jesus Christ—who lights up those who believe in him. He shines in the spiritual darkness, and the spiritual darkness cannot quench his light.
Jesus himself spoke about light in his discourse with the Pharisee Nicodemus, as recorded in John 3. After talking about the necessity of being "born again" (John 3: 3-8), Jesus proclaimed that whosoever believed in him would not perish but have everlasting life, in that familiar verse, John 3: 16. He went on to talk about condemnation (where we all start because of our flawed human nature) and salvation or "being saved" (John 3: 17-18). Basically, we are moved from the condemned state to an un-condemned state when we believe in Jesus and are born again.
Jesus says in John 3: 19-21, "And this is the condemnation, that light is come into the world, and men loved darkness rather than light, because their deeds were evil. For every one that does evil hates the light, neither comes to the light, lest his deeds should be reproved (discovered). But he that does truth comes to the light, that his deeds may be made manifest, that they are wrought in God." Those who respond to his light then become "children of light" (John 12: 36; Ephesians 5: 8; and 1 Thessalonians 5: 5). All because light came into the world.
But what or who is that light come into the world? Jesus, the Son of God, the True Light (John 1: 9). In John 8: 12 Jesus said, "I am the light of the world: he that follows me shall not walk in darkness, but shall have the light of life." He is talking about spiritual light for eternal life, not just biophotons that signal a state of being alive. This spiritual light makes believers also "the light of the world" (Matthew 5: 14).
Thus, everyone may emit light rays in the physical realm, but only the believer in Christ has true spiritual light to light their pathway, to radiate to others, and to commune with the True Light. And receiving that special light is very easy. Simply be born again by acknowledging that Jesus, the Son of God, came to earth, lived as a human, was crucified for us (put your name in there), that he died, rose again in triumph over death, and gives eternal life to whosoever believes.
----
Note: Information about biophotons is taken from the article "Biophotons – The Light in Our Cells" by Marco Bischof, March, 2005, Journal of Optometric Phototherapy 15: 1-5.