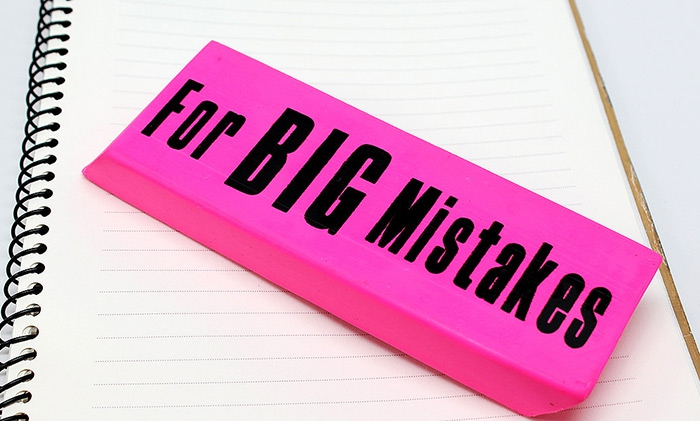 As a substitute teacher at a junior high school ("middle school" in some locations), I have learned that I need to have an eraser handy, since the students I work with usually have the erasers on the end of their pencils worn off. So I've learned to carry a large eraser or two with me, especially since my pencils usually have worn off erasers too.
Erasers are such handy things. Make a mistake. Erase it. Make it as though it never was made. Apart from an occasional smudge on the paper, there is no trace of the wrong lettering or punctuation (the error). And one can easily over-write the smudge with the correction. Problem solved.
This reminds me of how God erases our sins (errors) and transgressions (mistakes), leaving no trace of them. To Israel He announced, "I, even I, am he that blots out your transgressions for my own sake, and will not remember your sins" (Isaiah 43: 25). To experience the blessings and benefits of this, all Israel had to do was acknowledge the wrong-doing, turn back to God, and accept the forgiveness.
In the New Testament, we read often of the forgiveness of sins as a blessing or consequence of accepting Jesus as our personal Savior, being "born again." The disciple John writes in his first letter to the church, "If we confess our sins, He is faithful and just to forgive us our sins and to cleanse us from all unrighteousness" (1 John 1: 9). When God does the erasing, there is no smudge left behind, from His perspective.
God wants us to enjoy this forgiveness. He has made this possible because He wants us forgiven and free. He wants to remove our sins from us as far as the east is from the west (Psalm 103: 12), to cast them into the sea (Micah 7: 19), behind His back (Isaiah 38: 17).
He does not remind us of them or taunt us with them. When they are erased, they are erased. The only smudge we may see is that which we have not erased from our minds—by remaining on a self-imposed "guilt trip" and not embracing His full forgiveness and rejoicing in it.
But that is not a license to sin freely. God forbid! (See Romans 6: 1-2 and verse 15.) It should inspire us to walk in the Spirit, as He would have us walk, not looking behind to past mistakes, but looking ever forward to what lies ahead—a full, complete, and abundant life now and an eternity to spend with Christ.
So I'll continue to use my eraser and furnish it to students, being continually aware of the best eraser of all—God's, who, by the blood of His dear Son Jesus Christ, has erased all my sins, errors, and mistakes. Hallelujah!
Have you let Him erase yours?