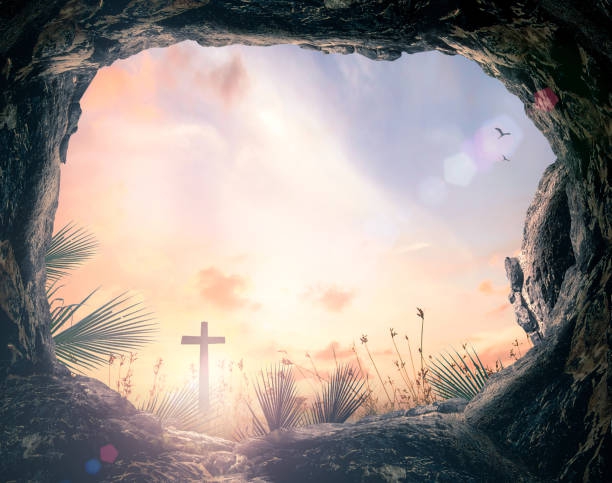 At a time when many indulge in chocolate bunnies, Cadbury mini-eggs (I'm guilty), and marshmallow peeps, it is easy for the culture in general to avoid the real meaning of the crucifixion of Christ and His subsequent resurrection on what is popularly called "Easter." When I was a child, the holiday meant a new dress, shoes, and white gloves. But the long weekend means much more.
In Romans 4:25, we see that Jesus, the Son of God, "was delivered for our transgressions [sins], and was raised again for our justification." At the cross, Christ paid the penalty for our sin, and at the empty tomb, He sealed our righteousness. These two events are inextricably linked.
At the cross, He bought us back from the slave-market of sin; we are redeemed, never to be sold again. Forgiveness of sin, dismissal of charges against us, and an irrevocable pronouncement of "not guilty" all flow from His sacrifice at Calvary. He was delivered to death for our sins. But He did not stay dead. He rose—alive and glorified. And His continuing life guarantees our salvation—our justification—our sanctification.
He did not redeem us to let us sink in the quicksand of sin again. He did not pardon us so we could go on our way sinning. Furthermore, He did not die for us so that He could demand that we now measure up to His standard of righteousness. The empty tomb testifies of His power over death and sin. He rose that we could have a new life—a new life in Him, His Spirit in us.
The Apostle Paul uses the following metaphor to describe what has happened for the believer: "Do you not know that we who were baptized into Jesus Christ were baptized into His death? Therefore we were buried with Him by baptism into death, that just as Christ was raised up from the dead by the glory of the Father, even so we also should walk in newness of life"—Romans 6: 3-4 (Modern English Version).
I urge the reader to continue reading through verse 13 of that passage. Those verses reiterate that truth and expand upon it. This is the fullness of justification, which includes sanctification, for we are declared righteous by faith in Christ, just as Abraham was declared righteous because he believed God (see Romans 4: 9, 21-22).
Moreover, Christ empowers us to live righteously in the new creation life which we have because He rose from the dead. "I have been crucified with Christ. It is no longer I who live, but Christ who lives in me"—Galatians 2:20a (Modern English Version). He makes it possible for us to live righteously in this culture and time, because His Spirit dwells in us, by our acceptance of Jesus as our personal Savior and Lord.
We can agree with the centurion at Calvary: "Surely this man was the Son of God," and with the angel in the empty tomb: "He is not here; He is risen as He said." [Matthew 27:54 and Matthew 28:6]
I think of my childhood's new dress and shoes at Easter as a metaphor of the new life we have if we accept Christ's sacrifice for us and believe that He rose from the dead. I'm not sure, though, if there is a deeper meaning to the chocolate bunnies, Cadbury mini-eggs, and marshmallow peeps.