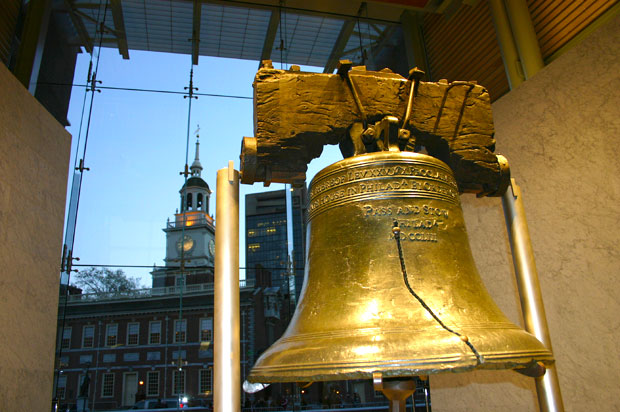 Do you know how or why the Liberty Bell cracked?
I'm sure I studied it in grade school, but that was so long ago that I had to do some research. A good site is www.ushistory.org/libertybell/. There I found that the bell was cast in Whitechapel Foundry in London. (Okay, maybe they knew what it would represent and deliberately sabotaged its construction, but I doubt that. The Brits whom I know are good people.)
It was ordered to "commemorate the 50-year anniversary of William Penn's 1701 Charter of Privileges" (U.S. History.org). Incidentally, Penn placed great value on religious freedom and on Native American rights. But I digress.
The first time the bell rang (as a test), it cracked and had to be recast – twice – by two men, John Pass and John Stow. It cracked because of errors in casting or because the metal was too brittle. Once recast, the sound was not as good as desired, but it was mounted in the belfry of the Pennsylvania State House, now known as Independence Hall, from whence it rang many times.
There are several legends about when the fatal crack occurred that rendered it silent. Some say it was in 1846 at George Washington's birthday celebration.
Interestingly enough, it was not called the Liberty Bell until the anti-slavery movement adopted it as their symbol. After the Civil War, it was officially termed the Liberty Bell.
Few may realize that engraved on the Liberty Bell is a Scripture from Leviticus 25: 10. Yes, those of you who claim the USA has no Biblical roots, a verse from the Old Testament appears on the bell which rang out at the first reading of the Declaration of Independence on July 8, 1776. (Yes, the Declaration was signed on July 4th; but it was read publicly the first time on July 8.) And Scripture verses appear all over historical sites and documents.
Leviticus 25:10 speaks of the Year of Jubilee. The words inscribed are these: "Proclaim Liberty throughout all the land unto all the Inhabitants thereof." I won't discuss the Year of Jubilee in this post (. . . maybe later), but for Christians, there is a greater symbol of a greater freedom.
That symbol is the cross of Jesus Christ and His empty tomb. These signal our freedom from spiritual bondage and our liberty to live a godly and abundant life forever.
In Galatians 5: 1, the apostle Paul instructs believers to "Stand fast therefore in the liberty wherewith Christ has made us free, and be not entangled again with the yoke of bondage." In context, the "yoke of bondage" is the attempt to be justified before a Holy God by one's own efforts to keep the law.
However, we can apply the term to any kind of spiritual bondage from which we have been set free. We are, as believers, free from addiction to drugs and alcohol, free from the love of money and fame, free from gossiping and lying, free from racism and discrimination, free from sexual immorality and perversion, and free from any other thing that would try to come between ourselves and our Lord. We are free from sin, as Paul announces in Romans 6: 18: "Being then made free from sin, you became the servants of righteousness."
Being a servant of righteousness is true liberty. It is a liberty that comes by accepting Jesus Christ as our personal Savior and Lord. Jesus said, "I am the way, the truth, and the life" (John 14: 6), and in knowing that truth, we are set free (John 8: 32). We have the Lord's guarantee on this: "If the Son therefore shall make you free, you shall be free indeed."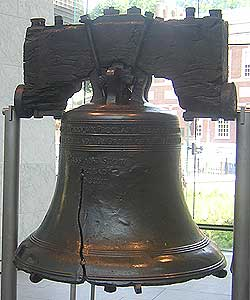 There is no crack in the Christians' metaphorical liberty bell; but there is the love and truth necessary to mend the crack in our nation, figured by the crack in the Liberty Bell. Unfortunately, at present, many in the government oppose this healing.